Now in the world, you hear a popular name Cloud Hosting and some of you already know that what is hosting. One of those who did not know about cloud hosting, I gonna describe here some points of cloud hosting. when we visit a website and shDedicatedow the page because of the data of this page stored anywhere. we visit it easily if not stored we can not visit it.
That's taking the storage on rent in a server called hosting. Cloud hosting is another term this is the combination of servers virtually.
We need hosting to reach people through the internet. basically, You visit my website and my website stored in my hosting company datacenter. if anyone sends a request to the server then the server reply instantly because the machine needs the internet for the reply to the request.
you can run a website with your own system but you need a static IP and 24/7 internet with 24/7 electricity if you have this setup then you can host your website at your home machine.
Types of Hosting
Web hosting is many types but we discuss here some important types of hosting.
Some small detail about the top three hosting what are they do.
Shared Hosting
Shared hosting is popular in use because it is easy to set up and low prices. you can say if you have a server then in this server seller can sell accounts whatever he wants to sell.
In the shared hosting, you can run only a small website/blog.
These are some reputed companies if you are planning to buy a shared hosting.
VPS(Virtual Private Server)
VPS is bigger than shared hosting. its give you better performance and security to shared hosting but VPS hosting is costly and needs some technical knowledge to handle it. If you planning for a VPS server, our suggestion
These are some trusted and best service provider for VPS if you are planning for buying a virtual private server then choose any one of them.
Dedicated Server
You know the dedicated server is a full resource of a server. In the Dedicated term, this is very expensive.
What Is Cloud Hosting?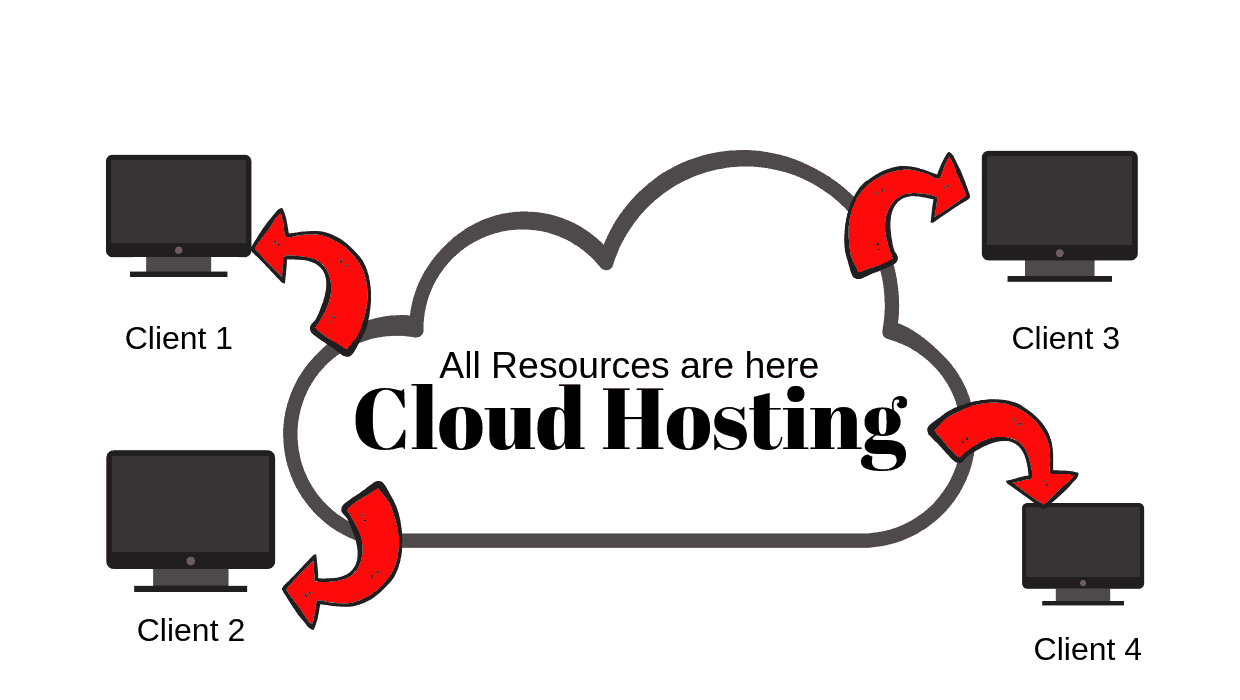 Cloud hosting is the latest model of hosting. The cloud is a concept that has been employed across many areas of technology, and now it's expended out into the hosting arena as well.
Normally cloud hosting is a network of virtual servers that tap into an underlying network of physical servers. The extent to which you tap into this network depends upon the actual needs of the website and can be scaled up or down accordingly.
How does cloud hosting work?
Cloud Hosting two service providers. First is Infrastructure as a Service (IaaS) and second is Platform as a Service (PaaS). In the IaaS virtualized hardware resources needed to install their own software because they build up the web application. The PaaS users already provided software because they can install and develop our web application fastly. Both servers in a cloud setting to execute a particular task. In the process one server failing, other servers function in a back-up capacity to provide the required and efficient resources to ensure the ongoing availability of web hosting services. When you store your website in a cloud hosting setting, that information is spread throughout numerous redundancies to ensure the website is always available online for both you and your web traffic.
Benefits of cloud hosting?
It is a primary option when cloud technologies started to develop, some people switched to cloud server hosting instead. Many companies using cloud hosting without any problems.
The world's data center uses 1 to 2 percent world's electricity. And the current electricity is renewable because of today's time many sources of generating electricity. For example, ways are coal, oil, gas or nuclear energy. That means more servers use more electricity. So cloud server hosting is more efficient and reliable, it also helps to save the planet.
Cloud Hosting upgrading your disk space and memory is a very simple process and can use from multiple different servers.
The biggest cloud hosting services run on a world's secure data centers, which are regularly upgraded to the latest generation of fast and efficient hosting hardware.
These are some benefits of using cloud hosting if you are planning for a hosting then cloud hosting is the best for you. In the cloud hosting, you can purchase it at the low cost and no headache for coding these are managed the server. you can easily login control panel and set up it according to you.
Why so much popular?
Now in hosting's world cloud hosting is going so much popular. Because it gives us a lot of features. Many big companies like Google, Microsoft, Amazon… these companies are focus only on cloud hosting they are not sells shared because they have many data centers for storing data. They have a lot of data centers so they planned to merge all centers together and create a cloud of servers. They make money with their already established datacenter and it is beneficial for both customer and seller.
Also Read:-Bluehost Web Hosting Review
Conclusion
I believe that I have given a detailed view of cloud hosting. In my opinion cloud hosting is the best for any type of website because there you can extend resources if you need more. The main part of Cloud hosting you save money from avoiding buying a CDN. if you use cloud hosting then you don't need a CDN. Cloud-hosting works on many servers at a time. So, friends, I impressed with Cloud hosting Technique.
Tell us what is your thinking about cloud-hosting I am waiting for your reply. Thank you
Subscribe to our website to get the latest information in your mailbox.